Recherche & développement
Recherche & développement > Fibrose
Fibrose
Novotec a mené avec succès plusieurs projets de Recherche en collaboration avec des laboratoires académiques, des PME et des grands groupes internationaux.
Novotec a développé des outils d'évaluation de la fibrose indispensables pour la recherche pharmaceutique lors du développement de molécules à potentialité anti-fibrosante ou de bioréactifs. Ces méthodes d'investigation ont été mises au point pour mesurer le remodelage matriciel, suivre la chronologie d'apparition des protéines synthétisées et leur potentiel de réversibilité, et prévoir l'évolution de la matrice extracellulaire. Ces expertises ont été réalisées sur du matériel tissulaire (prélèvements humains et animaux) et liquide (sérum, urine, liquide synovial, surnageant de culture cellulaire).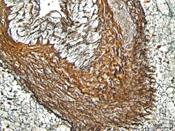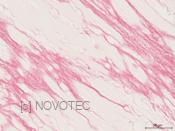 Au niveau tissulaire, Novotec analyse les interactions cellules-matrice extracellulaire pour étudier le développement et le caractère réversible de la fibrose dans différents organes :
Développement embryonnaire (dent, foie, cœur, rein)
Effet de radiations d'intensités variables (foie, poumon, intestin et reins)
Actions de traitements chimiocuratifs réduisant l'inflammation et la myocardite fibrosante.
Réversibilité et datation de l'athérosclérose
Analyse de l'expression du collagène au cours de l'induction chondrogénique à partir de cellules souches mésenchymateuses de moelle osseuse chez l'homme.
En collaboration avec des laboratoires publics et privés de R&D, Novotec a participé à la mise en place de modèles expérimentaux chez la souris et le rat pour faciliter l'étude ex vivo du développement de la matrice extracellulaire.
References
«A New Combination of Blood Parameters for the Accurate Non-invasive Diagnosis of Liver Fibrosis in Dogs»
Lecoindre A., Lecoindre P., Cadore J.L , Chevallier M., Pagnon A., Benchekroun G., Hernandez J. , Oliveira Leal R., Hugonnard M.,Miette V., Destro M., Rannou B.
«Clinical, blood biochemical and hepatic histological data in 49 French Scottish Terriers dogs according to their plasma ALP activity, hepatic vacuolation and the presence or absence of hepatocellular carcinoma. Revue Méd. Vét., 2014, 165, 7-8, 245-251»
Peyron C., Chevallier M., Lecoindre P., Guerret S.,Pagnon A.
«»

«Hyperphosphataemia sensitizes renally impaired rats to the profibrotic effects of gadodiamide. Br J Pharmacol, 2012 Feb;165(4b):1151-1162.»
Fretellier N., Idée J.M., Bruneval P., Guerret S., Daubiné F., Jestin G., Factor C., Poveda N., Dencausse A., Massicot F., Laprévote O., Mandet C., Bouzian N., Port M., Corot C.
«Comparative In Vivo Dissociation of Gadolinium Chelates in Renally Impaired Rats: A Relaxometry Study. Invest Radiol. 2011, 46, 292-300.»
Fretellier N., Idée J.M., Dencausse A., Karroum O., Guerret S., Poveda N., Jestin G., Factor C., Raynal I., Zamia P., Port M., Corot C.
«Clinical, biological, and skin histopathologic effects of ionic macrocyclic and nonionic linear gadolinium chelates in a rat model of nephrogenic systemic fibrosis. Invest Radiol. 2011, 46, 85-93.»
Fretellier N., Idée J.M., Guerret S., Hollenbeck C., Hartmann D., González W., Robic C., Port M., Corot C.
«Myofibroblast in schistosomal portal fibrosis of man. Mem. Inst. Oswaldo Cruz, Rio de Janeiro 1999, 94, 87-93.»
Andrade Z.A., Guerret S., Fernandes A.M.L.
«Extracellular Matrix Deposition, lysyl oxidase expression, and myofibroblastic differentiation during the initial stages of cholestatic fibrosis in the rat. Lab. Invest. 1997, 76, 765-778.»
Desmoulière A., Darby I., Monte Alto Costa A., Raccurt M., Tuchweber B., Sommer P., Gabbiani G.
«Desmin expression in fibroblasts of murine periovular granuloma during liver Schistosoma mansoni infection. Differentiation 1991, 46, 89-95.»
Bolmont C., Andujar M., Peyrol S., Grimaud J.A.
«Elastin in human, baboon, and mouse liver: an immunohistochemical and immunoelectron microscopic study. Anat. Rec. 1990, 228, 392-404.»
Porto L.C., Chevallier M., Peyrol S., Guerret S., Grimaud J.A.
«Elastin in alcoholic liver disease. Path. Res.Pract. 1990, 186, 668-679.»
Porto L.C., Chevallier M., Guerret S., Hartmann D.J., Grimaud J.A.
«Intra-alveolar fibrosis of idiopathic bronchiolitis obliterans-organizing pneumonia: Cell-matrix patterns. Am. J. Pathol. 1990, 137, 155-170.»
Peyrol S., Cordier J.F., Grimaud J.A.
«Morphology of chronic collagen resorption : a study on the late stages of schistosomal granuloma involution. Am. J. Path. 1988, 132, 389-399.»
Andrade Z.A., Grimaud J.A.
«Connective matrix organisation in human pulmonary fibrosis. Virchows Arch. [Cell. Pathol.] 1983, 44, 223-240.»
Takiya C., Peyrol S., Cordier J.F., Grimaud J.A.
«Collagen immunotyping in human liver : Light and electron microscope study. J. Histochem. Cytochem. 1980, 28, 1145-1156.»
Grimaud J.A., Druguet M., Peyrol S., Chevalier O., Herbage D., El Badrawy N.