Research & development > Fibrosis
Fibrosis
Novotec successfully achieved several Research projects, in collaboration with academics, with small businesses and with international leading companies.
Novotec developed fibrosis evaluation tools, which are essential for the pharmaceutical research during the development of potentially anti-fibrosing molecules or bioreagents. These investigative methods were perfected to measure the matricial remodeling, to follow the chronology of the protein synthesis and of their reversible potential, and to forecast the extracellular matrix evolution. These assessments were carried out both on tissular material (human and animal samplings) and liquid material (serum, urine, synovial fluid, cell culture supernatant).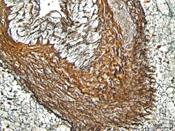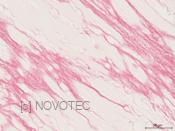 On the tissular level, Novotec analyses the cell-extracellular matrix interactions to study the development of the fibrosis and its reversibility in various organs :
Embryonic development (teeth, liver, heart, kidney)
Radiation effects (liver, lung, intestine, kidney)
Action of chemocurative treatments reducing inflammation and fibrosing myocarditis
Reversibility and atherosclerosis dating
Analysis of the collagen expression during chondrogenic induction from mesenchymal stem cells of human bone marrow.
In collaboration with public and private R&D laboratories, Novotec took part in the development of experimental models (mouse and rat) to make the ex vivo study of the extracellular matrix evolution easier.
References
«A New Combination of Blood Parameters for the Accurate Non-invasive Diagnosis of Liver Fibrosis in Dogs»
Lecoindre A., Lecoindre P., Cadore J.L , Chevallier M., Pagnon A., Benchekroun G., Hernandez J. , Oliveira Leal R., Hugonnard M.,Miette V., Destro M., Rannou B.
«Clinical, blood biochemical and hepatic histological data in 49 French Scottish Terriers dogs according to their plasma ALP activity, hepatic vacuolation and the presence or absence of hepatocellular carcinoma. Revue Méd. Vét., 2014, 165, 7-8, 245-251»
Peyron C., Chevallier M., Lecoindre P., Guerret S.,Pagnon A.
«»

«Hyperphosphataemia sensitizes renally impaired rats to the profibrotic effects of gadodiamide. Br J Pharmacol, 2012 Feb;165(4b):1151-1162.»
Fretellier N., Idée J.M., Bruneval P., Guerret S., Daubiné F., Jestin G., Factor C., Poveda N., Dencausse A., Massicot F., Laprévote O., Mandet C., Bouzian N., Port M., Corot C.
«Comparative In Vivo Dissociation of Gadolinium Chelates in Renally Impaired Rats: A Relaxometry Study. Invest Radiol. 2011, 46, 292-300.»
Fretellier N., Idée J.M., Dencausse A., Karroum O., Guerret S., Poveda N., Jestin G., Factor C., Raynal I., Zamia P., Port M., Corot C.
«Clinical, biological, and skin histopathologic effects of ionic macrocyclic and nonionic linear gadolinium chelates in a rat model of nephrogenic systemic fibrosis. Invest Radiol. 2011, 46, 85-93.»
Fretellier N., Idée J.M., Guerret S., Hollenbeck C., Hartmann D., González W., Robic C., Port M., Corot C.
«Myofibroblast in schistosomal portal fibrosis of man. Mem. Inst. Oswaldo Cruz, Rio de Janeiro 1999, 94, 87-93.»
Andrade Z.A., Guerret S., Fernandes A.M.L.
«Extracellular Matrix Deposition, lysyl oxidase expression, and myofibroblastic differentiation during the initial stages of cholestatic fibrosis in the rat. Lab. Invest. 1997, 76, 765-778.»
Desmoulière A., Darby I., Monte Alto Costa A., Raccurt M., Tuchweber B., Sommer P., Gabbiani G.
«Desmin expression in fibroblasts of murine periovular granuloma during liver Schistosoma mansoni infection. Differentiation 1991, 46, 89-95.»
Bolmont C., Andujar M., Peyrol S., Grimaud J.A.
«Elastin in human, baboon, and mouse liver: an immunohistochemical and immunoelectron microscopic study. Anat. Rec. 1990, 228, 392-404.»
Porto L.C., Chevallier M., Peyrol S., Guerret S., Grimaud J.A.
«Elastin in alcoholic liver disease. Path. Res.Pract. 1990, 186, 668-679.»
Porto L.C., Chevallier M., Guerret S., Hartmann D.J., Grimaud J.A.
«Intra-alveolar fibrosis of idiopathic bronchiolitis obliterans-organizing pneumonia: Cell-matrix patterns. Am. J. Pathol. 1990, 137, 155-170.»
Peyrol S., Cordier J.F., Grimaud J.A.
«Morphology of chronic collagen resorption : a study on the late stages of schistosomal granuloma involution. Am. J. Path. 1988, 132, 389-399.»
Andrade Z.A., Grimaud J.A.
«Connective matrix organisation in human pulmonary fibrosis. Virchows Arch. [Cell. Pathol.] 1983, 44, 223-240.»
Takiya C., Peyrol S., Cordier J.F., Grimaud J.A.
«Collagen immunotyping in human liver : Light and electron microscope study. J. Histochem. Cytochem. 1980, 28, 1145-1156.»
Grimaud J.A., Druguet M., Peyrol S., Chevalier O., Herbage D., El Badrawy N.