Research & development > Skin / Cutaneous Substitute
Skin / Cutaneous Substitute
Novotec successfully achieved several Research projects, in collaboration with academics, with small businesses and with international leading companies.
Involved in clinical issues as well as in dermatological and cosmetic issues, skin is the subject of many studies about renewal, remodeling, healing and tissue repair. Based on its technical and scientific skills, Novotec stepped in Research projects about innovative products. Formulations of creams and oils were tested on cultured-cells and in vitro tissues.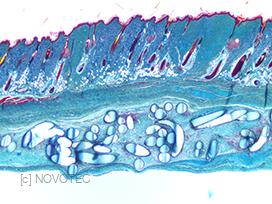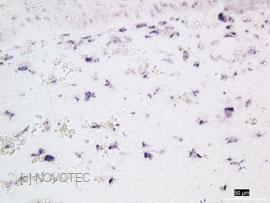 Novotec also took part in the follow-up of experimental pre-clinical and clinical studies: assessment of cutaneous burns after irradiation, effects of pharmaceutical molecules on pathological skins (such as psoriasis), laser treatment on lesions resulting from surgery or irradiation.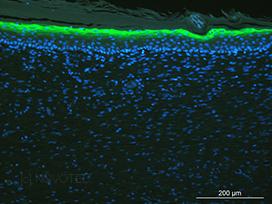 Novotec also develops research programs on cutaneous tissue engineering, in collaboration with French and foreign companies: characterization of dermal, epidermal and dermo-epidermal substitutes, grafts of the cutaneous substitutes on nude mice (agreement of surgery on small animals, consortium with several companies and laboratory animal house for the management of a complete preclinical project) and analysis of the samples during preclinical studies. The perfect command of the various tissular and cellular analysis methods leads to carry out kinetic studies of biocompatibility and integration of the cutaneous substitutes. The key steps of the cutaneous repair (neo-vascularization, re-epithelization, matricial remodeling…) could be described from both a genic and a protein point of view. These analyses allowed to answer three essential questions: who, when and where?
Moreover, Novotec collaborated on studies about biocompatibility and deterioration of biomaterials. After graft or injection of these biomaterials in the skin (dressings, resorbable and permanent dermal fillers …), standard colorations (HES, Masson-Goldner's trichrome) and specific colorations (MGG) were carried out on paraffin embedded tissues or methylmethacrylate resin (MMA) embedded tissues. Qualitative and semi-quantitative methods allowed estimating the damage of the biomaterials and the inflammatory reaction.
Thanks to its experience, Novotec is a specialist in the skin and cutaneous substitutes field.
References
«»

«In situ Hybridization to evaluate the wound healing process of a bilayered living cell-based construct (Apligraf®) in a nude mice model - 2010 june, TERMIS-EU, Galway, Ireland.»
Rousseau C. and Pagnon-Minot A., Guerret S., Hartmann D.J, Ronfard V.
«Short term integration on human bilayered living skin substitute (Apligraf®) grafted onto nude mice - 19th Annual Meeting of the Wound Healing Society with SAWC (Symposium on Advanced Wound Care) 2009 April 26-29, Gaylord Texan Resort and Convention Center, Dallas, Texas.»
Rousseau C., Thillou F., Pagnon-Minot A., Guerret S., Hartmann D.J, Ronfard V.
«Long term remodeling of a bilayered living human skin equivalent (Apligraf®) grafted onto nude mice: immunolocalization of human cells and characterization of extracellular matrix. Wound Rep. Reg. 2003, 11, 35-45.»
Guerret S., Govignon E., Hartmann D.J., Ronfard V.
«Keratinocytes influence the maturation and organization of the elastin network in a skin equivalent. J. Invest Dermatol 2000, 114, 365-370.»
Duplan-Perrat F., Damour O., Montrocher C., Peyrol S., Grenier G., Jacob M.P., Braye F.
«Host-Donor interactions in healing of human split-thickness skin grafts onto nude mice: in situ hybridization, immunohistochemical, and histochemical studies. Transplantation 1992, 53, 1002-1010. »
Plenat F., Vignaud J.M., Guerret-Stocker S., Hartmann D., Duprez K., Duprez A.
«The role of fibroblasts in dermal vascularization and remodeling of reconstructed human skin after transplantation onto the nude mouse. Transplantation 1992, 54, 317-326.»
Demarchez M., Hartmann D.J., Regnier M., Asselineau D.
«Changes in the elastic tissue of the non-sun-exposed skin of cigarette smokers. Br. J. Dermatol. 1991, 125, 43-47.»
Frances C., BoImnic S., Hartmann D.J., Dautzenberg B., Branchet M.C., Le Charpentier Y, Robert L.
«Immunohistochemical study of the biological fate of a subcutaneous bovine collagen implant in rat. Histochemistry 1989, 91, 177-184.»
Vialle-Presles M.J., Hartmann D.J., Franc S., Herbage D.
«The revascularization process of human skin transplanted onto the nude mouse. In : Progress in Basement Membrane Research. Renal and Related Aspects in Health and Disease. Gubler M.C., Sternberg M. Eds. John Libbey Eurotext, London 1988, 293-294.»
Démarchez M., Hartmann D.J., Pruniéras M.
«Immunofluorescent localization of collagen types I, III and IV, fibronectin, laminin, and basement membrane proteoglycan in developing mouse skin. Roux's Arch. Dev. Biol. 1987, 196, 295-302.»
Mauger A., Emonard H., Hartmann D.J., Foidart J.M., Sengel P.
«An immunohistological study of the revascularization process in human skin transplanted onto the nude mouse. Transplantation 1987, 43, 896-903.»
Demarchez M., Hartmann D.J., Prunieras M.
«Wound-healing of human-skin transplanted onto the nude-mouse. 2. an immunohistological and ultrastructural study of the epidermal basement-membrane zone reconstruction and connective-tissue reorganization. Dev. Biol. 1987, 121, 119-129.»
Demarchez M., Hartmann D.J., Herbage D., Ville G., Prunieras M.
«Collagen heterogeneity of thickened basement membranes of human diabetic dermis : tissular immunolabelling of collagen types I, III and IV by light and electron microscopy. Cell. Mol. Biol. 1984, 30, 43-57.»
Peyrol S., Hugues B., Grimaud J.A., Mornex R.